GotoConnect – your ultimate solution!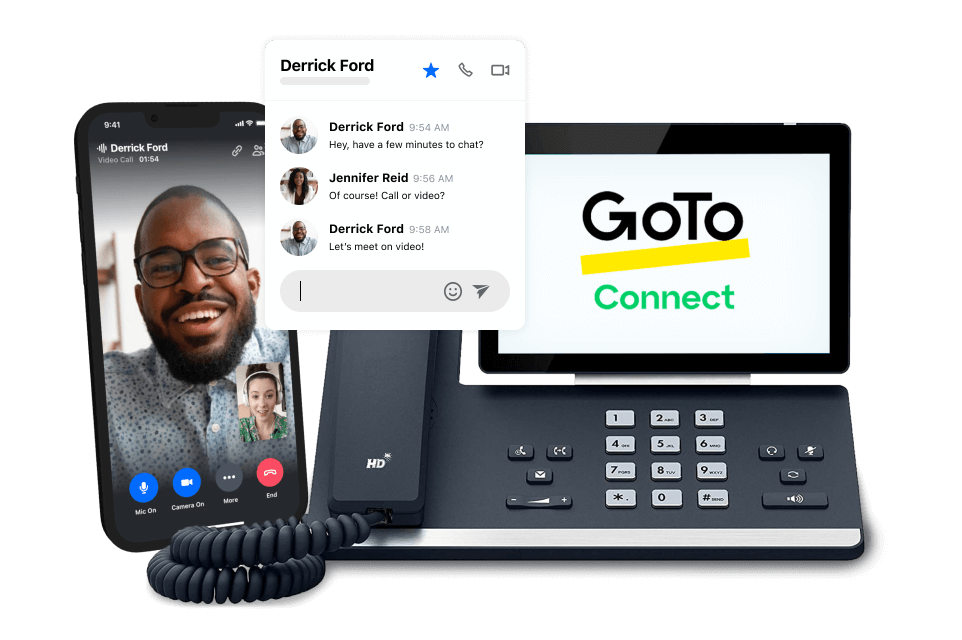 GotoConnect is a cloud-based unified communications platform that offers businesses of all sizes a comprehensive set of communication and collaboration tools to streamline their operations and enhance productivity.
With GotoConnect, you can access a wide range of communication features such as voice calling, video conferencing, messaging, and more – all in one easy-to-use platform. Whether you're a small business owner, a remote worker, or a large enterprise, GotoConnect offers flexible and scalable solutions to fit your unique business needs.
Here's why you should choose GotoConnect as your go-to communication and collaboration tool:
Seamless Integration
GotoConnect seamlessly integrates with other popular business tools, including Google Workspace, Salesforce, and Microsoft Office 365, making it easy to streamline your workflow and collaborate with your team from anywhere, at any time. With GotoConnect's open APIs, you can also integrate your custom business applications, creating a more personalized and tailored communication experience.
Effortless Communication
With GotoConnect, you can enjoy effortless communication through a variety of channels, including voice, video, and messaging. You can easily switch between devices, such as your computer or mobile phone, without losing any communication continuity, ensuring you're always connected and accessible to your team.
Advanced Features
GotoConnect offers a comprehensive suite of advanced features that go beyond traditional communication tools, including:
• Automatic Call Distribution (ACD) to route calls to the most qualified agent
• Interactive Voice Response (IVR) to automate inbound calls and improve customer service
• Call Analytics and Reporting to monitor and analyze your call center performance
• Call Recording to help you improve customer service and ensure compliance
• Online Faxing to send and receive faxes digitally, eliminating the need for physical fax machines
• SMS Messaging to communicate with customers through text messaging
All of these features are designed to help you streamline your communication processes and improve your customer service.
Reliable Service
GotoConnect's cloud-based platform ensures a reliable and secure service, with a 99.999% uptime guarantee, ensuring you're always connected with your team and customers. With GotoConnect's redundant data centers and automatic failover capabilities, you can be assured that your communication will not be interrupted, even during unexpected outages or disasters.
Flexible Pricing
GotoConnect offers flexible pricing plans to fit your unique business needs, whether you're a small business owner or a large enterprise. You can choose from a variety of plans, including a per-user pricing model, to ensure you're only paying for what you need. Plus, GotoConnect offers a free trial, so you can test out the platform and see if it's the right fit for your business before committing to a paid plan.
Customer Support
GotoConnect is committed to providing excellent customer support, with 24/7 phone and chat support, as well as a comprehensive knowledge base and community forum. Whether you need help setting up your account, troubleshooting issues, or simply have a question, GotoConnect's support team is always available to help.
GotoConnect is an all-in-one communication and collaboration tool that can help you streamline your workflow, improve your customer service, and enhance your team's productivity. With its seamless integration, advanced features, reliable service, flexible pricing, and excellent customer support, GotoConnect is the perfect choice for businesses of all sizes. Try GotoConnect today and experience the future of unified communications!