Plantronics
From the day two airline pilots working in a garage set out to invent a new kind of aviation headset until today, we have considered breakthroughs in audio technology as our daily business. We pioneered the lightweight headset, the mobile headset, noise-canceling technology and the personal speakerphone, always driven by a single obsession: remove the barriers to simply smarter communications.
Simply Advanced   –    From small business to global enterprise, our versatile line-up of audio solutions has you covered.
Superior audio clarity meets comfort and style, in a single earpiece headset designed for contact center professionals. Wideband support and extendable noise-canceling microphone ensures crystal-clear, efficient customer communications.
Your Wishes for Ultimate Comfort, Clarity and Style is Granted with EncorePRO.
Premium Audio Quality
Wideband Audio for clearer conversations
Ultra noise-canceling microphone filters out out background noise
Low-sitting extendable microphone enables optimal mic positioning
Outstanding Comfort and Design
Reinforced, lightweight headband provides strength and durability
Plush leatherette earpads allow for hours of comfortable wear
Elegant satin finish and featherweight design
Accessible and Convenient
Quick Disconnect cord lets users walk away from their phones without removing the headset
When Your Business is All About Voice, It's All About SupraPlus Wideband
Quality Customer Communications
Wideband audio for more natural sound and clearer conversations
Fully compatible with standard band environments
Premium audio assures quality customer communications
Ultra noise-canceling screen out background noise, reducing distraction
Ergonomic Design for All Day Comfort
Over-the-head, all-day comfortable design for intensive use
Proven robustness at millions of agent workstations
Single and dual earpiece options meet varying needs and preferences
Quick Disconnect cord lets users walk away from their phones without removing headset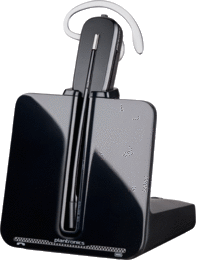 First we made it lighter. At only 21 grams, the CS500 Series features the lightest DECT™ headset on the market. That means all-day comfort for all-star performance.
Then we made it better. Increased range for maximum mobility, one-touch controls, energy efficient power management, simple plug-and-talk installation — the CS500 Series does it all.
Make a good call with the new standard in wireless desk phone headset systems.
Range up to 350 feet away for maximum mobility
Three wearing choices for tailored comfort
Premium wideband audio quality
One-touch call answer/end, vol +/-, mute and flash controls
Smart power management system optimizes for range and talk time
Conference in up to three additional CS500 or Savi headsets for enhanced collaboration
New headsets can subscribe to a base by simply docking the headset
Use with Electronic Hookswitch Cable or Handset Lifter to remotely answer/end calls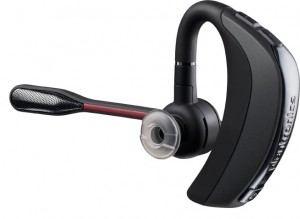 The Plantronics Voyager PRO HD with Smart Sensor technology redefines hands-free convenience. This headset is so smart, that by simply placing it on your ear, it automatically answers your phone or transfers calls back and forth between your phone and headset. Voyager PRO HD takes you beyond the headset, with our Vocalyst service that lets you manage email, check weather or update Facebook, and the Plantronics MyHeadset app that gives you tips, tricks and tools for Android-based phone. Combine HD streaming audio plus natural sound and superior comfort and you've got the smartest headset for smartphones.
So smart, it knows when you can talk
Smart Sensor™ technology knows whether to send calls to your mobile phone or your headset
Put it on and you've answered the call
So smart, it manages your calls
Eliminates accidental dialing by locking call button when headset is not worn
Streams music, podcasts and more
Pauses streaming audio for calls or when the headset is taken off
Triple tap of Call button dials Vocalyst™ voice and text service
Plantronics MyHeadset™ app gives you tips, tricks and tools for Android-based phones
On-screen battery meter for iPhone and Android 3.0 or higher smartphones
Experience brilliant, HD streaming audio plus natural, clear calls
Voice alerts announce talk time, volume, connection and more
Ergonomic all-day fit